My third Amazon Kindle Paperwhite e-reader arrived just in time for my June vacation. The 10th generation Kindle's boasts two notable improvements: it's waterproof and it integrates with Audible audiobooks.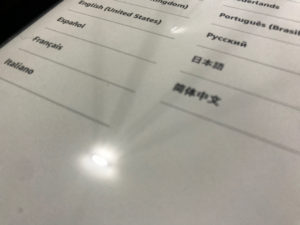 I greatly enjoyed my Kindles … right until screen damage ended their digital lives. I'm not exactly sure how it happened (I suspect some combination of kids and gravity) but both e-readers suffered impact damage to their screens. They still worked, but the backlighting – which is critically important during camping and backpacking trips – caused a scattershot effect on the screen. It looked like another reality trying to break through the screens.
The previous devices (named Nuclear Moonlight, 2014 and Atomic Planetfall, 2016) are now retired in favor of the new Kindle (Amazon), christened Starlight Wanderer. To protect the Wanderer from the sort of impact damage that did in its predecessors I bought an OMOTON Kindle Paperwhite Case (Amazon). It's a sturdy case that's half the price of Amazon's official case (and get's better reviews).
Into the Great Outdoors
The wilderness of Vermont provided the first test of the Wanderer and its protective case during our vacation to Burlington and Butler Island on Lake Champlain. I can't say I did anything radical (like swimming out to a raft with the Kindle tucked into a swimsuit pocket) but for basic vacation reading Tiamat's Wrath by James S.A. Corey in a hammock or down by the rocky beach, it worked well. As with its predecessors, the 10th generation Paperwhite offers clear, easy-to-read text in a variety of sizes (a particular boon to my aging eyes). The OMOTON case is a "smart case" that turns the Kindle on when I open it and turns it off when I close it. It's a little thing, but a nice improvement over hitting the power button.
The true test was in July, with two weekends of camping with the scouts of Troop 3 in Easton, Pa. For the first weekend, we backpacked along the Appalachian Trail in New Jersey (first in Worthington State Park, then in Delaware Water Gap National Recreation Area). I tucked the Wanderer into one of my backpack's external pockets, moving it occasionally to figure out which one was least likely to expose it to impact damage. It didn't take any heavy blows, and survived the weekend just fun. A week later we camped in Hickory Run State Park in Pennsylvania and again, everything worked just fine as I read A Bad Deal for the Whole Galaxy.
These were not intense trail tests – I didn't read the Kindle in the rain and I didn't accidentally drop it on to rocks – but then again, I wasn't doing anything particularly intense when the first two Kindles broke. The OMOTON case, which provides a hard back and cover, seems like it will handle the sort of light impacts you can expect while reading on the trail, but I suspect even it will have challenges surviving a direct hit from another pack being thrown on top of mine.
Incremental Improvements
The single biggest improvement to the 10th generation Kindle Paperwhite is its waterproofing. According to Amazon, this allows the device to be submerged for up to 60 minutes, which improves its survivability at the beach and lake or, more likely, in the bath. The device also doubled its storage – you can get it in 8 GB and 16 GB varieties – but since I never came close to filling my old Kindles, this wasn't a big deal for me. It will also play audiobooks from Audible, but I typically use my phone for that.
To my eye, the e-ink contrast is a little better than the previous iterations, which my aging eyes appreciate (especially when I bump up the font to avoid digging out my reading glasses). The most surprising improvement in the ad-supported version is that the ads are actually relevant! For my last two Kindles I decided to pay a little more and suppress the ads, mostly because Amazon was more interested in trying to sell me Tide detergent than books. The current iteration of the Kindle software serves up relevant ads for science fiction and fantasy novels. These are more informational than distracting, so I'm content to use the ad-supported version for now.
Final Analysis
I'm satisfied with the Kindle and the screen. The next test? A week at the beach, followed by a week at scout camp. I'll post an update at summer's end reporting on how the Kindle faired.
Featured Image Meta
My Kindle next to the campfire while on vacation in Vermont. Credit: Ken Newquist