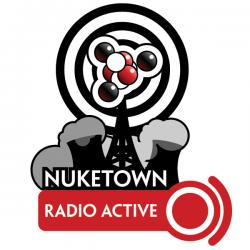 Home improvement once again takes center stage as my wife and I prepare to re-paint our living room.
But it's not all painting and scraping: I've also got two new sites to talk about — GenCon (Almost) Live and Geek Acres — and a run down of my favorite games for the Nintendo DS.
And that review of George R.R. Martin's A Feast for Crows? Yeah, that gets delayed again — look for it in Radio Active #38.
Getting the Podcast
Show Notes
Intro

"Home Improvement" theme song

Nuketown News


More Home Improvement: I've spent the last few days spackling and scrapping the walls and ceiling of my living room, preparing to repaint it. We're still debating the color schemes — the lead choice is a cappuccino/coffee color for two walls. We're also considering stripping and refinishing the wooden floors downstairs.
NeutronLad: Smiling, almost laughing and kicking like crazy. Happy kid — calms down quickly when upset.

Promo: GenCon (Almost) Live
Sites of Note

GenCon (Almost Live)

Podcasters posting interviews, segments, shows from GenCon 2006 to a central web site. A little light in content during the con, but seeing a deluge now that everyone is back.
Great site — makes me really regret not going this year, and revs me up for next year (yep, I'm going to GenCon Indy 2007).

Geek Acres

Thirtysomething geek dad talks about tech, pop culture, geekdom, etc.

Goblin: Gaming Broadcast Network
Gaming: Nintendo DS Recommended Games


Metroid Pinball: Best computer pinball game I've ever played. Realistic physics, great graphics, loyal to classic tables like Adams Family, Star Trek, etc. Only problem is that it needs more tables.
Animal Crossing: Open ended exploration. So open that I initially had trouble figuring out what to do, but eventually settled into the fun of odd jobs, digging up fossils, decorating, importing trees, constellations, and bug hunts. Great shared experience via wireless and excellent game for kids.
Meteos: Fun block based puzzle game that's reminiscent of of Tetris, if Tetris had you launching blocks into space when you completed a line.
Nintendogs: Fake dogs, which can be kind of boring, but my daughter Jordan loves it.
Warioware Touched: Every game involves the stylus or microphone in some way — great gimmick, but ultimately repetitive.
Overall: The DS rocks. It's the best portable out there, and perfect for geek dads.
My next must buys:


Outro
Podcast: Play in new window | Download
Subscribe: Apple Podcasts | RSS