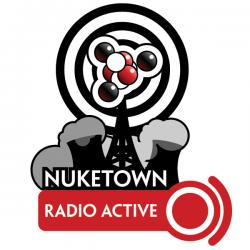 On this episode of Nuketown Radio Active colds stalk the Newquist household, I geek out about some computer upgrades, and I return to the World of Warcraft.
In Netheads I look at the Bard of Valiant, an RPG blog and Saga-Edition, a fan web site dedicated to Star Wars: Saga Edition RPG.
Finally, I round out the podcast with a look at four cool games for the Nintendo Wii.
Getting the Show
There are several ways to get the podcast:
Show Notes
Nuketown News

Gloop Invades the Newquist Household

One, two punch: first colds, then stomach bug.

Podcasts Archives Fixed!


Khephren (coming in from Yog Sothoth) reported a problem with the show archives that prevented episodes 13 to about 32 from being downloadable has been fixed.

Computer Upgrades: I spent some of my hard earned freelance cash (remember all those reviews last fall/winter?) on some upgrades for my MacBook Pro and home office.

LACIE 320 GB Rugged Hard Drive
Dell 22″ HD LCD monitor

Return to World of Warcraft


I'm back in World of Warcraft after 3 years away. And Zilanderan was right there waiting for me.
Having a blast playing with my gaming group.

Promo: Serving Worlds by John Mierau
Netheads

Bard of Valiant

RPG gaming blog that spends a goodly amount of time talking about science fiction (which, as a newbie scifi gm, I appreciate greatly).
Recent posts include "Prophesy", "A Dark Earth" science fiction campaign setting, random scifi encounter with a killer garden.

Saga-Edition.com: The Star Wars Saga Editon RPG Databank


Includes conversions from earlier editions, new rules (e.g. Jedi and Sith holocrons), NPC write-ups, feat and talent indexes (though I wish they'd identifty which book they came from in their master lists) and much more.

Promo: The Secret Lair
Game Review: Wii Games
Outro
Podcast: Play in new window | Download
Subscribe: Apple Podcasts | RSS