Raaka-tu is a text adventure game (we call it interactive fiction today) released by Radio Shack in 1981 for its TRS-80 and TRS-80 Color Computer. The game was written by Robert Arnstein. Despite playing a ton of text adventure games as a kid (such as Colossal Cave, Zork, and The Hitchhiker's Guide to the Galaxy), I never played Raaka-tu. My computers growing up were the Apple II+ and the Commodore 64/128; as such, I didn't have access to the game.
Quote
I knew from my research that the cassette recorder functoned as the TRS-80's "tape drive". It stored data as analog sound on magneetic audiotapes. When Halliday had first started programming, the poor kid hadn't even had access to a floppy disk drive. He'd had to store his code on cassette tapes. A shoebox sat beside the tape drive, filled with dozens of these cassettes. Most of them were text adventure games: Raaka-tu, Bedlam, Pyramid, and Madness and the Minotaur.
Game Play
As a text-based game, Raaka-tu's gameplay is pretty straightforward. You're provided with an introductory prompt:
YOU ARE IN A DENSE DARK DAMP JUNGLE.
From there, you type text commands such as "West" (or "W") and "North" (or "N") to navigate the environment. There are no graphics; you have to build up a mental map of the environment in order to understand where things lie.
After navigating the jungle, you eventually find the complex of Raaka-tu, evade its guards, and figure out a way to scale its walls. Once inside, you must deal with a series of traps and other threats while attempting to find a number of treasures. At any time, you can type "score" to find out how well you are doing.
Impressions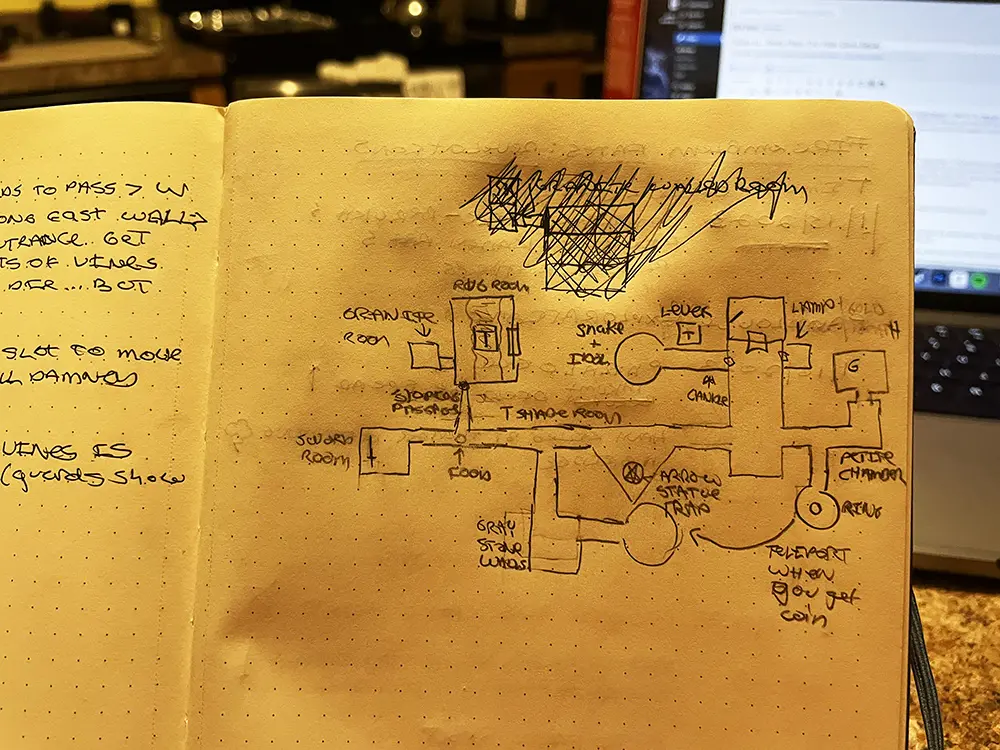 You will die. And die often.
Death by a guard:
YOU ARE AT THE NORTH WALL. A LARGE NETWORK OF VINES CLINGS TO THE WALL. SEVERAL GUARDS CARRYING LETHAL CROSSBOWS TURN TO FACE YOU. "STOP! INFIDEL DOG!", THE GUARDS LEVEL THEIR CROSSBOWS AND LOOSE THEIR BOLTS! YOUR BODY FALLS TO THE GROUND RIDDLED WITH THE SHAFTS! YOU'RE DEAD. TRY AGAIN.
Death by pit trap:
YOU REALIZE WHILE YOU'RE FALLING THAT THE RUG COVERED A PIT. THE BOTTOM OF THE PIT IS COVERED WITH SPIKES ABOUT FOUR FEET TALL – YOU DON'T HAVE TIME TO MEASURE THEM EXACTLY. YOU'RE DEAD. TRY AGAIN.
Death by not reading the narrative closely enough (and, ahem, getting killed by an arrow):
THE MESSAGE SAYS, "SAFE PASSAGE FOR A PRICE."

PUT COIN IN SLOT

THE STATUE TURNS TO FACE THE WEST DOOR.

WEST

THE STATUE RELEASES THE ARROW WHICH PENETRATES YOUR HEART. YOU'RE DEAD. TRY AGAIN.
Death by pulling levers that should not be pulled.
A TRAP DOOR OPENS ABOVE YOU. GOLD DUST FILLS THE ROOM AND DROWNS YOU. YOU'RE DEAD. TRY AGAIN.
Death by fighting a gargoyle … and losing.
A MIGHTY THRUST, BUT IT MISSES THE GARGOYLE BY A KILOMETER! YOU FEEL THE GNASHING OF THE GARGOYLE'S TEETH IN YOUR SIDE! YOU PASS OUT. WHEN YOU AWAKEN, YOU FIND YOURSELF CHAINED TO A BLOOD STAINED ALTAR. A PRIEST IS KNEELING OVER YOU WITH A KNIFE. IT LOOKS LIKE THIS IS IT. YOU'RE DEAD. TRY AGAIN.
And a bunch more, like snakes lurking in the dark, gargoyles prepared to rip you to shreds, and a magic ring that teleports you to a room you visited before (without you realizing it), and then you get shot by an arrow trap you thought you'd disarmed/redirected.
The game has some random elements to it – such as vines that break as you try and climb them or the movement of guards around the complex – but mostly it's a question of trial and error. Find a thing. Experiment with it. Die. Try again.
It requires a different mindset from playing modern, graphically-intense games. There's no handy mini-map, so I created my own, using my gamer bullet journal to keep track of my movements and build a map of Raaka-tu. It was a grand throwback to the games I played as a kid, and while I enjoyed Colossal Cave more, it was still an enjoyable distraction.
The Ready Player One Video Game Replay is an ongoing exploration of the games that inspired the novel Ready Player One by Ernest Cline. Love it or hate it, there's value in revisiting our geeky roots.
High Scores
Resources
Where to Play
Commentary
Documents