Easton, Pa. is a town of tradition, perhaps no more so than around Thanksgiving. On Turkey Day, Easton plays Phillipsburg, NJ. in one of the country's longest running football games.
It takes place at Lafayette College's Fisher Field, which is a few blocks from my house in Easton's College Hill district. The game started in 1905 and dominates both communities, so much so that if you live on College Hill it's best to wait until the game is over before trying to go any where for the holiday.
It's a game that everyone talks about, mostly because it's got a great community vibe to it. There's an electric feel when you're at the game, regardless of whether you're rooting for Easton or Phillipsburg (or how much spiked eggnog you've had at a pre-game tailgate). That said, it's not one we went to a lot when the kids were young: as a late November football game its usually cold and that electric feeling of community only does so much to keep you warm.
For the next four years though, it's going to dominate our Turkey Days. Our daughter plays trombone in the Easton marching band. The 300+ member band is at every Thanksgiving Day game, so you better believe we'll be there as well.
I'm not a huge football guy — I play fantasy football with friends from work, and catch a game here and there on Sundays — but I am going to treasure these games. Four years may seem like a long time, but they'll be gone before you know it … and then there won't be any more. Sure, we can go to the games on our own, but it's not the same when your own kid its out there playing her heart out (Neutronlad plays violin in the orchestra, which undoubtedly has its own great events … but it's not Thanksgiving football).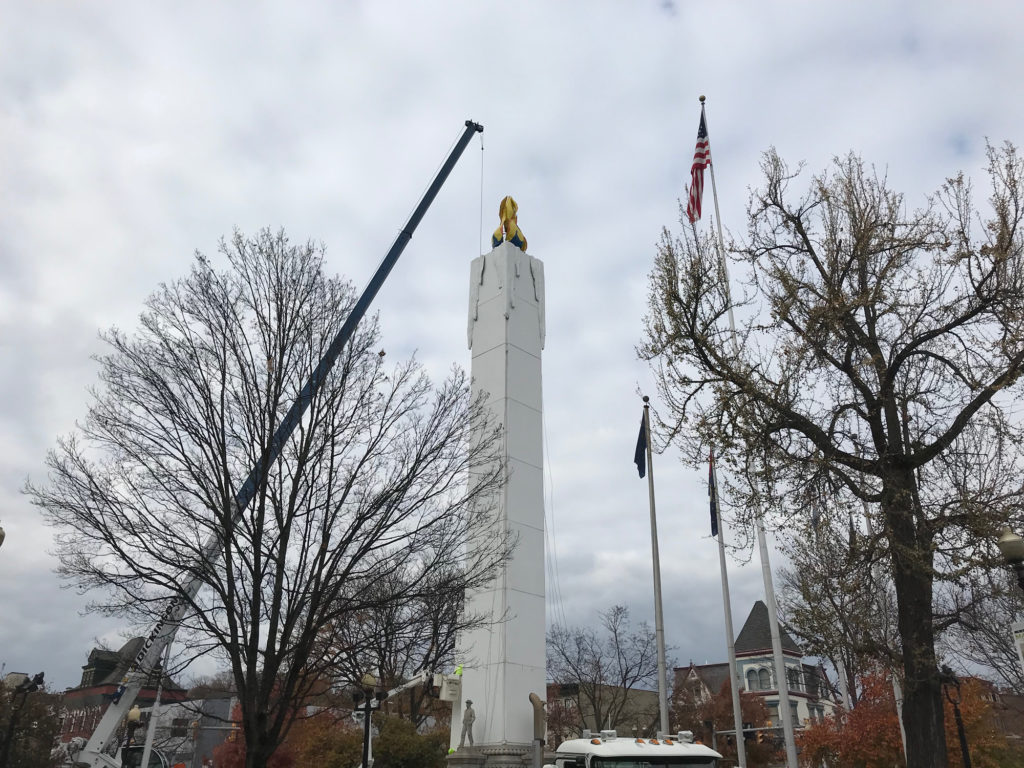 After Thanksgiving the city will "light" the Peace Candle, a huge wooden candle that rises from Easton's Centre Square. It covers up the city's war memorial during the winter months, and the candle lighting ceremony on the Saturday after Thanksgiving usually draws a few thousand people down town. It coincides with Small Business Saturday, and it's a great opportunity to get into the Christmas spirit while supporting local shops. Yes, some would say the Peace Candle is tacky, others might have a few other disparaging words to describe it, but it's an Easton tradition I enjoy.
Image Meta
The Easton Marching Band plays on Lafayette College's Fisher Field during the half-time of the Easton/Phillipsburg Thanksgiving Day game. Credit: Ken Newquist.