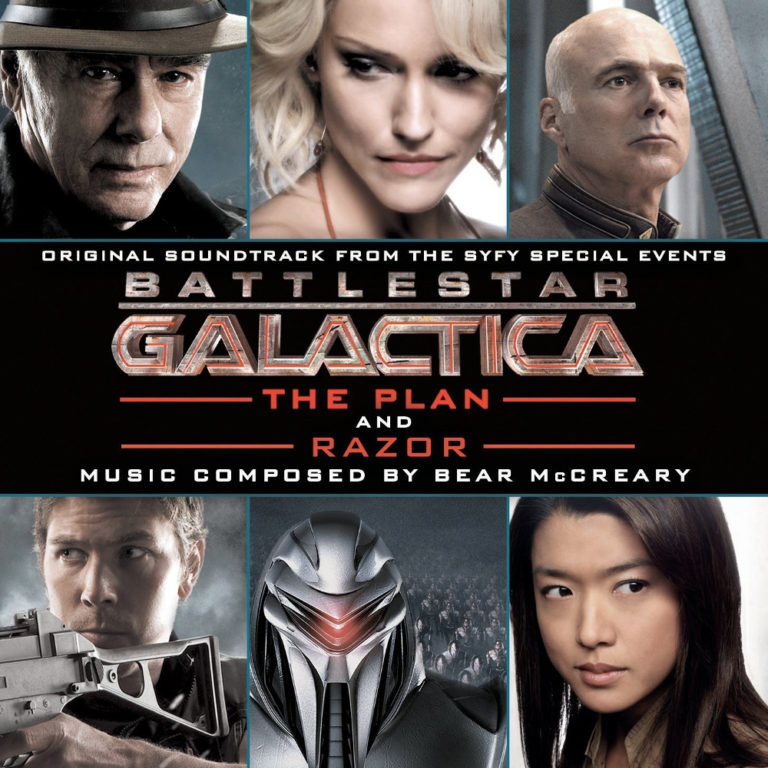 Battlestar Galactica: The Plan/Razor is a 19-track album including music from two of BSG's standalone movies. Razor looks at Admiral Adama's early days as a fighter pilot named Husker, as well as the dark path that led to the Battlestar Pegasus after escaping the carnage of the Cylon sneak attack. The Plan returns to the days before that assault, and looks at the work of Cylon operatives trying to bring about the apocalypse.
Musically the album wars between stronger, harder riffs that build on the best tracks of the Season 2 album ("Something Dark Is Coming", "Black Market") and lighter, more mystical tracks of the first season. It's an uneven mix that feels like two shows were mashed together (which they were) and while there are a few stand out tracks, it's not a must-buy for casual fans of the show.
1. Apocalypse ("Theme from The Plan")
One of the amazing things about the new Battlestar Galactica theme is that it hasn't gotten old. While I admit missing the classic BSG theme song when the mini series launched, the new opening theme quickly embedded itself in my brain. Surprisingly its myriad refrains, reworked through the different soundtracks, haven't gotten old. Far from it — Bear McGreary keeps finding new ways to re-invigorate the hook, and "Apocalypse" is a prime example of this. Opening with the familiar, ethereal choral singing, "Apocalypse" quickly gives rise to a stirring, heavy guitar based riff reminiscent of Season 2's standout track, "Black Market". It's Halo's "Rock Anthem for Saving the World" meets "Battlestar Galactica", and it's one hell of a listen.
2. Razor: Main Title
"Razor: Main Title" is the opposite — a much more subtle, softer theme focusing on flutes and woodwinds with a defiant drum beat working its way in near song's end. It's surprising given the martial nature of Razor, which turned out to be such a brutal, disturbing teleflick.
3. Arriving at Pegasus
"Arriving at Pegasus" keeps up the flutes, backed up by keyboards. It's no where near as atmospheric as what we saw with the track "Pegasus" in the Season 2 soundtrack (which remains, hands down, some of my favorite BSG music — hell, my favorite scifi music — of all time). It's ok, but again, it didn't fit the musical queues that bounce around my brain when I think of Pegasus in Season 2.
4. The Plan – Main Title
"The Plan – Main Title" opens with an ominous build up that's remiccient of Alien. The long, drawn out notes, occasionally punctuated by percussions, are suitably ominous for a show about the end of the world (actually, multiple worlds).
5. Attack on the Scorpion Shipyards
"Attack on the Scorpion Shipyards" is the song that accompanies the Cylon assault on Pegasus's home base. It starts like a gathering storm, with the music slowly rising in intensity before giving away to drums and backed by the series' signature woodwinds. Game masters take note: It's more subdued than your typical battle track, and it makes it a good backdrop for any space battle scenes you might be envisioning.
6. Apocalypse, Pt. 1 and Pt. 2
"Apocalypse, Pt. 1" starts with strong guitar riffs that hit you in the chest if you've got the bass up high enough … and make you want to crank it if you don't. It builds track #1, extending those themes out to 6:37 and 2:37.
12. Husker in Combat
Reflections of the original Battlestar Galactic theme appear throughout this too-short, 1:54 minute track. It's appropriate; it harkens back to Admiral William Adama's time as a Viper pilot, Callsign Husker. Although short, it's one of my favorite tracks on the album because it immediately launches a wave of nostalgia every time I hear it.
19. Apocalypse (Theme from "The Plan") [Bonus Live Version]
Similar to Track 1, but recorded live with an enthusiastic crowd cheering on the performance. The performers riff on the basic song and the audience occasionally urges them on.
Product Details
Battlestar Galactica: The Plan/Razor
Audio CD
Original Release Date: 2010
Label: La-La Land Records
ASIN: B002ZXZJQK
MSRP: $16.80