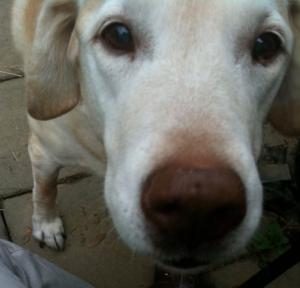 Madison, my Labrador Retriever, died on Monday after 13 years of unrelenting enthusiasm for life, liberty and the pursuit of food. She was the quintessential Lab — super happy, eager to say hello, an amazing swimmer, an even better retriever, and the kind of dog who knew how to take time to stop and eat the roses. And brownies. And cup cakes. And…
We knew she would be a challenge from the beginning: as we were signing the check to buy her, she tried to pull one of her litter-mates through a fence by his tail. It took us six months to train her to lick instead of bite, and two tours of puppy school to get her to agree to basic obedience commands.
Unless she was on the water … in which case the only thing she'd pay attention to was her kong-on-a-rope. Or maybe ducks — Madison once tried to catch a mallard on the Delaware River, not realizing that ducks could, you know, fly. I had to jump in the river and swim after her to get her attention. Fortunately she turned around before we got to New Jersey.
Her nickname was "Mad Dog" because she was just so damn energetic. She'd do a Lab butt wiggle for anyone she met, and she'd happily run/swim/retrieve until she couldn't move any more … and still want more!
This was never more true than when she was playing "Red Ball", which is a hard plastic ball about six inches in diameter that she'd happily push around the backyard, preferably in a good four inches of snow. She'd get so intense about this game that she'd attack any plant life that had the audacity to get between her and her ball. As a result, "Red Ball" season only began once the garden was over for the year, when she would do the least amount of damage.
She did calm down occasionally, particularly near the end of her life, and she was always happy to snuggle up next to us on the bed or sofa. She loved riding in my Jeep Wrangler, with the top down and her ears flapping in the wind.
Simply put, she was a great dog. Sue and I miss her terribly.