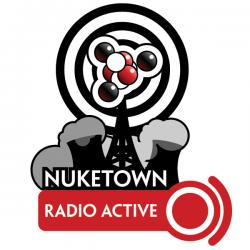 On this edition of Radio Active my iPod dies and comes back again (in a slightly different form), Geek Fu Action Grip goes on indefinite hiatus and I launch two new superhero blogs chronicling my Mutants & Masterminds campaign.
I also the debate the merits of Tivo vs. Netflix, discover two wikis dedicated to Marvel and DC superheroes, figure out how to Get Things Done on my Mac,  and finalize my summer reading list.
Getting the Show
Show Notes
Nuketown News
The iPod: Dead and Back Again

I dropped my beloved 30 GB black iPod last week, which killed it dead. Fortunately, the Apple Store replaced it for a minimal fee — I decided to kick in an extra $30 for an AppleCare plan on the thing. Now to find an impact proof container for the iPod…

"Ubuntu on a G3 iMac" comment on Geek Acres #89: I report in on my experiences installing and running Ubuntu Linux on a G3 iMac.
Super Blogs: I'm starting up a Mutants & Masterminds superheroes campaign on Friday, and have created two blogs to support it:

Infinity Storm: The official campaign blog.
The Constant Sentinel: The in-character blog recounting the events of the campaign from the street-level view of a rabid fanboy.
It's the first time I've ever used blogs in a campaign, and I'm curious to see how it works out. For Infinity Storm, I've given my players admin access to the blog so they can go in and edit whatever posts they like.
For The Constant Sentinel, I've created an alter-ego GMail account known as Infinity Lord, who does all the posting. So far Evil Genius has responded to the posts with a l33t-speaking fanboy of his own named SPOONJUSTICE. Should be amusing.

Tivo vs. Netflix

We just got digital cable and something like another 200 channels. This has led my wife to believe that a Tivo might not be such a bad thing, and made this offer: we get Tivo, but lose Netflix.
Oh, the torture. How will I get caught up on The 4400, Doctor Who and MI-5 without Netflix?
I'm thinking of keeping netflix through until September, trying to watch as many shows on my "watch list" as possible, and then getting Tivo in time for the Fall TV season.
Promo: Geek Acres
Netheads
Geek Fu Action Grip goes on indefinite hiatus
Superhero Databases
iGTD

A free "Getting Things Done" software tool for the Mac. For those unfamiliar with GTD, it's a system for figuring out what you need to do, and then doing it — or basically, it's a nifty way of generating lists.
I make extensive use of paper to-do lists at work, and although I've tried many other tools, none have replaced my trusty "The List" notebook.
iGTD very well may replace it. It allows you to assign tasks to contexts (Home, Work, Freelance, Nuketown) and projects (Radio Active, Game Wiki, etc.)
You can also free tag resources, automatically add Safari or Mail tasks via an "F6" button, add tasks via Quicksilver, and assign priorities to everything.
You can  export the whole thing automatically to iCal and sync it via .Mac to your other Macs.
If you're looking for a way to organize your geek life, you need to check out this app.
Promo: GBN
The Official Summer Reading List
The Game Master Show
Outro
Podcast: Play in new window | Download
Subscribe: Apple Podcasts | RSS