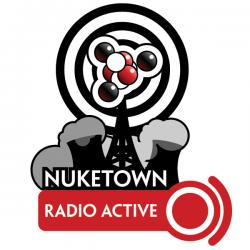 This show features a Radio Active first as I do a game and music review of the same product: Wizards of the Coast's Sharn: City of Towers for the Eberron campaign setting.
The show has a ton of listener feedback from Radio Active #34, as well as a review of the Vintage Gamer podcast, a discussion of the 95 Theses of Geek Activism and a link to a conversation between two famous geeks: Zack Braff of Scrubs and Garden State fame and Kevin Smith, known for his films Clerks, Chasing Amy and Dogma.
Getting the Podcast
There are several ways to get the podcast:
Show Notes
Intro

"Cut to the Chase" track from the rpg sourcebook of the same name.

Nuketown News

New Content:
New Writing:

Battlestar Galactica CCG Review on SCIFI
KODT #115 – d20 Adventures, KODT #116 – Serenity RPG

New Comments:

Good feedback on the last show – folks liked the Arkham Horror review, and I'm looking to do another one soon. I think they'll correspond (surprise, surprise) with our monthly board game sessions.
Jim from the Vintage Gamer suggested checking out the The Mad Three of Gamer: The Podcasting's new how-to vlog and  Scott Nielson's Board Gaming with Scott vlog in which he runs through the rules and pieces of different games on camera.

Meanwhile Jason of Random Signal suggested the Durham 3 podcast, which features a group of players who chat about issues in gaming, then pause to play their game, then do a round up afterwards. Sounds like a cool idea

Promo: Bear's Grove Promo
Sites of Note

The Vintage Gamer

Reviews of classic board, card and role-playing games by Jim Van Verth, who's married to Mur Lafferty of Geek Fu Action Grip. Reviews games such as:
The book-vs.-book Ace of Aces
The ancient strategy game M.U.L.E.
The board game Acquire.
The board game Fury of Dracula

95 Theses of Geek Activism

Reclaim the term 'hacker'. If you tinker with electronics, you are a hacker. If you use things in more ways than intended by the manufacturer, you are a hacker. If you build things out of strange, unexpected parts, you are a hacker. Reclaim the term.
The true enemy is the line: "If you haven't done anything wrong, what do you fear?"
Treating your customers like criminals- or potential criminals- will turn customers away.

Zach Braff interviews Kevin Smith

Talk about building a fan base, exploiting the internet.
Promo: GOBLIN Gaming Network
Game & Music Review: Sharn: City of Towers

Eberron is Wizards of the Coast's pulpy, noir-inspired campaign setting for Dungeosn & Dragons
Sharn: City of Towers details the setting's largest metropolis. It describes over 100 city districts, a dozen new guilds/organizations, loads of NPCs, extensive maps.
Good book for anyone running an Ebberon campaign, giving enough information to run a half-dozen campaigns in the city, or to provide a base of operations for a world-spanning one.
Also good for DM's looking for inspiration for their own urban campaigns, or for a resource that they can lift whole locations from. Eberron isn't so different from normal D&D that the content in this book can't be used elsewhere with a few tweaks.
No index, which is its single greatest fault. All RPG books need indexes! But fortunately you can download the index from Keith Baker's Web site:

Created by David Davidson of d2world (http://www.d2world.com)
In fairly unique twest, the book ships with a nine-track CD designed to set the mood for Eberron. The tracks are
Eberron Soundtrack Sample Tracks:
http://www.wizards.com/default.asp?x=dnd/news/20040912news
Good mix of adventure and mystery, with a little bit of the exotic mixed in. While it's obviously aimed at Eberron (and somewhat strange that it didn't ship with the campaign setting book) most of the tracks could be used anywhere.

Outro
Podcast: Play in new window | Download
Subscribe: Apple Podcasts | RSS